Funny Kitty Puzzle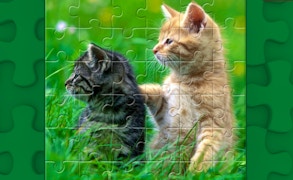 Funny Kitty Puzzle
Dive into the enchanting world of Funny Kitty Puzzle, a delightful addition to the universe of animal games that has been charming players with its wholesome combination of cute cats and stimulating brain exercises. Designed with a seamless blend of relaxation and challenges, this game will keep your grey matter pumping while feeding your fondness for feline friends.
As an exemplary constituent of cat games, Funny Kitty Puzzle illustratively showcases the playful antics of an adorable anime girl and her hilarious kitty in six captivating images. The inviting visuals create an amicable ambiance that makes it near impossible to resist the appeal of this game.
But, don't be fooled! This isn't just another cutesy pursuit to kill time. Funny Kitty Puzzle proves itself to be a bona fide member of the brain games fraternity with four varying difficulty levels designed to test your mettle. Whether you're someone who prefers a straightforward 16-piece puzzle or an ambitious gamer seeking the thrill in piecing together 100 fragments, you'll find your cup of tea here.
The game's unique charm lies in its ability to keep the tension taut while ensuring you're having fun. It makes strategic use of its various puzzle modes to ensure gamers are continuously challenged, all the while ensuring their enjoyment is kept at maximum levels. Your brain will surely appreciate the workout!
In conclusion, Funny Kitty Puzzle is a delightfully engaging cat puzzle masterpiece that effortlessly combines stimulation and leisure into one irresistible package. Whether you're searching for the perfect way to improve your cognitive abilities or merely want a touch of light-hearted entertainment during your downtime, Funny Kitty Puzzle is a must-try!
What are the best online games?