Couple Lovers Puzzle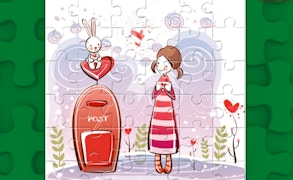 Couple Lovers Puzzle
Unlock the irresistible world of romance with Couple Lovers Puzzle, a top choice for engaging brain games designed with youngsters in mind. This adorable jigsaw game captures the tender spirit of young love through its anime-inspired artwork, making it a fun and visually captivating brain exercise and a charming addition to your collection of Games for Girls.
This magnetic jigsaw puzzle invites players into its captivating realm with six beautifully drawn images that encase the enchanting tale of anime girl and her couple lovers. Each image presents a unique set of challenges that test your cognitive skills, keeping your brain sharp. Whether you want a quick mental exercise or an intense memory test, Couple Lovers Puzzle has got you covered.
The game is craftily divided into four modes ranging from an easy 16 piece puzzle to an advanced 100 piece puzzle. This distinctive aspect ensures that the game caters to different skill levels and ages, maintaining its appeal to both novices and seasoned gamers. The variety of puzzle sizes also adds to the game's replay value, allowing players to keep coming back for more.
Apart from being a marvelous mental workout, Couple Lovers Puzzle is also an entrancing journey into the world of anime art. The artistically drawn graphics combined with the heartwarming couples' stories make this game not only intellectually stimulating but also emotionally satisfying.
In essence, Couple Lovers Puzzle stands out as an innovative offering in the realm of brain games, successfully blending romantic narratives with challenging puzzles. Whether for enhancing cognitive abilities or simply unwinding after a busy day, this jigsaw puzzle is sure to become your new favorite among Games for Girls.
What are the best online games?