The Zombie Dude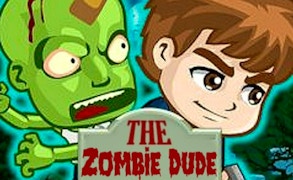 The Zombie Dude
In the sprawling realm of adventure games, The Zombie Dude stands out as a cross-genre sensation that effectively blends the mind-bending puzzles of escape games with the camaraderie and competition of 2 player games, and the thrilling, undead action distinctive to zombie games.
The game cleverly starts with an unlikely alliance between a youthful adventurer and a folklore-centric mocker zombie. This presents an effective narrative hook that keeps players engaged and curious, despite the language barrier humorously included within the storyline. Our adventure-bound protagonist, armed with his trusty gun and quick wit, takes up arms against hordes of evil zombies, initiating an exhilarating journey filled with ever-evolving challenges.
The dual-character dynamic is undeniably one of this game's main selling points. The mocker zombie's incredible strength allows him to heave rocks as projectiles, offering an unconventional weapon in your battle against the undead. Meanwhile, our human hero's marksmanship adds a layer of traditional gameplay reminiscent of classic shoot 'em ups.
The Zombie Dude is more than just another entry in the crowded market of zombie-infested video games. It brings together various gaming elements that cater to different types of players - those who love fast-paced action, brain-teasing puzzles, cooperative gameplay or even comedic narratives will find something to enjoy here. Its success hinges on your actions as a player - how you utilize each character's unique abilities to overcome obstacles and challenges. This inherent sense of responsibility heightens the stakes and immerses you deeper into their world.
To sum up, if you're looking for an innovative escape from the usual gaming experiences prevalent today or simply enjoy teaming up with friends in co-op games or combating undead enemies in zombie-themed adventures - then The Zombie Dude definitely deserves a place on your gaming radar.
What are the best online games?