The Wedding Shop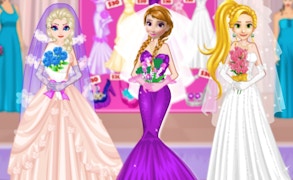 The Wedding Shop
Step into the enchanting world of The Wedding Shop, a delightful mix of games for girls, exuding elements of fashion, beauty, and a fun-fueled adventure. Set amidst the captivating Disney universe, it gloriously brings together fan favorites Elsa, Anna, and Barbie in a unique blend of dress up games and princess games.
The Wedding Shop brilliantly encapsulates the excitement and elation associated with weddings. It provides players with an opportunity to immerse themselves in a fanciful world where they can help their favorite personalities look their best on their big day. As it combines elements from the popular categories of barbie games and fashion games into one, players are guaranteed an exceptional gaming experience.
The game's strength lies in its ability to deliver an interactive experience. Players can choose their preferred character from Elsa, Anna, or Barbie and begin the thrilling journey towards creating a breathtaking bridal look. From makeup to dress-up, every element is an expedition into creativity that arouses excitement while keeping the fun at high levels.
A standout feature is its realistic approach that mimics real-life scenarios. The game encourages players to seek expert opinions about their styling choices providing a sneak peek into the fashion world's intricacies. This winning feature is not just engaging but also informative, making it fun yet educational.
In conclusion, The Wedding Shop is a fabulous fusion of style-savvy tasks and fun-filled activities wrapped beautifully in spectacular Disney glamour. It's more than just a game; it's an entrancing experience that lets players visualize splendid weddings while stimulating creativity. If you are seeking a perfect concoction of fashion-forward tasks while having endless fun, this game should top your list!
What are the best online games?