The Squared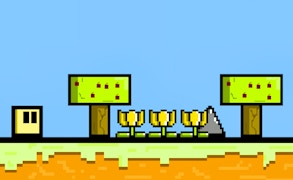 The Squared
Description
Dive into the fast-paced world of The Squared, an interactive web game where you assume the role of a charming pixelated cube. Navigate through endless scrolling landscapes, dodging skillfully crafted obstacles to rack up your highest score. It's not just about survival, it's about mastery and beating your personal best every step of the way.
How to Play
The game mechanics of The Squared are delightfully simplistic, yet it's challenging to master. Use your keyboard keys to guide the cube through the side-scrolling environment. Precision and timing are everything as each jump or dodge could be decisive. Score points for each successful obstacle avoidance and watch as your score climbs.
Tips and Tricks
In The Squared, speed becomes your friend. Learn to anticipate upcoming obstacles and make split-second decisions for successful evasion. Maintaining a cool head in escalating situations will boost your chances of scoring high and surviving longer within the game.
Features
Beautifully designed pixelated graphics lending a retro feel.
A dynamic side-scrolling landscape that never repeats for a unique experience each time.
Fast-paced action that hooks you from the first second.
Straightforward controls making it accessible for players of all skill levels.
An inbuilt scoring system to track your progress and compare with others.
What are the best online games?