The Sorcerer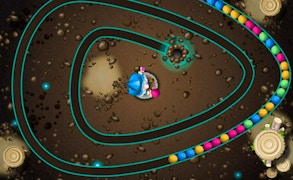 The Sorcerer
If you take delight in match 3 games, or you're a fan of the classic charm of bejeweled games and jewel games, then The Sorcerer would undoubtedly captivate your attention. A HTML5 puzzle game ingeniously inspired by the Zuma gameplay, The Sorcerer showcases a mystical realm of puzzles that gamers, who savor a good mental challenge, would find irresistible.
The Sorcerer pulls us into a universe filled with spellbinding objects and intriguing challenges. In this universe, your mission is to skillfully match 3 or more colored balls by shooting at them from the mouth of The Sorcerer's mystic entity. To achieve success in this game demands strategic thinking and swift reflexes to match and eliminate as many colored balls as possible before they reach the deadly skull.
What makes this game particularly engrossing are its three progressive levels. Each level brings with it new elements that make the gameplay more challenging yet rewarding. As you progress, you find yourself woven into an invigorating web of strategy and anticipation – will the next shot align like you planned? Or will it breed new obstacles on your way to victory?
The Sorcerer stands as a perfect blend of fun and difficulty for all lovers of jewel games. It illustrates beautifully how HTML5 has taken puzzle gaming to tremendous heights. The beautiful graphics coupled with enchanting sound effects make the gaming experience thoroughly immersive.
To conclude, whether you're an aficionado of match 3 games looking for a thought-provoking twist or someone who appreciates the intensity bejeweled games offer, The Sorcerer would not disappoint. This game reaffirms that in the realm of puzzle games, creativity is limitless.
What are the best online games?