The Last Survivors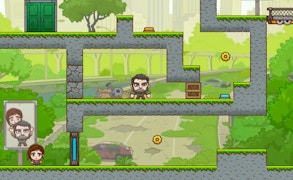 The Last Survivors
If you've ever fantasized about being the last bastion of civilization in a post-apocalyptic world, The Last Survivors is just the experience for you. This highly engrossing, top-tier Adventure game brings together elements of 2 player games, zombie games, and skill games to create an unforgettable gaming journey.
In The Last Survivors, gamers are thrust into a dystopian world overrun with zombies. What sets this game apart is its emphasis on cooperation and strategy. As one of the few remaining humans, collaboration is key to survival, making it a perfect choice for those seeking strategic 2 player games.
The game also excels in its incorporation of skill-based challenges. Mastering each task requires dexterity and quick thinking, placing it firmly in the realm of top-rated skill games. You're not just mindlessly slaying zombies; you're solving complex puzzles and maneuvering through hordes of undead with precision.
This game's most significant triumph, however, lies in its narrative. The characters may be the last of us, but The Last Survivors effortlessly showcases their grit and determination - they are not defenseless. The game gives you control over humankind's final glimmer of hope in a captivating tale that keeps players hooked from start to finish.
The Last Survivors takes you on a suspenseful ride where your decisions matter. Showcasing an amalgamation of genres such as 2 player games and zombie games; it demands skills to overcome challenges and navigate through the storyline successfully.
In conclusion, if you're on the hunt for an adventure-fueled gaming experience that requires skillful strategy, teamwork and has an enticing narrative that's both challenging and rewarding then make no mistake – The Last Survivors is your ticket to a memorable gaming adventure.
What are the best online games?