The Haunted Mansion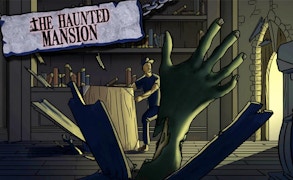 The Haunted Mansion
Step into a ghoulish world of eerie excitement with The Haunted Mansion, a chilling contender in the realm of monster games. This spellbinding arcade game takes you on a harrowing journey through spectral corridors and spine-tingling chambers teeming with supernatural inhabitants that will have your pulse racing. If you have a soft spot for monster games, The Haunted Mansion is ripe for exploration.
From the moment you embark on your hauntingly engaging quest in The Haunted Mansion, the immersive graphics and chilling audio effects set an unequaled mood of thrill and suspense. The mansion, shrouded in mystery and inhabited by an assortment of grotesque monsters, provides an engaging backdrop to your ghostly mission.
One of the key aspects that sets this game apart from other monster games is its unique blend of terror-inducing gameplay and puzzle-solving elements - it's not sufficient simply to survive; one must also unravel the chilling secrets of the desolate mansion. Each room presents its own daunting challenge, demanding quick reflexes, logical reasoning, and unerring accuracy.
Fervent fans of monster games will delight in battling or outsmarting a diverse array of supernatural beings including ghouls, specters, and eerie apparitions that rise to challenge even seasoned gamers. The intricately designed monsters are not only fear-inciting but also demonstrate an artistic mastery that enhances gaming experience profoundly.
In conclusion, if you are seeking spine-chilling escapades in the realm of arcade monster games, look no further than The Haunted Mansion. Its terror-filled halls offer an adrenaline-packed adventure that thrills from start to finish. With its impeccable graphics, heart-stopping storyline, and challenging gameplay mechanics, The Haunted Mansion is not just another addition to your gaming collection; it's a thrilling descent into a world where every creaking door could spell doom or triumph.
What are the best online games?
Tags