The Bulb Girlfriend 2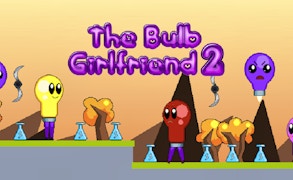 The Bulb Girlfriend 2
Description
In The Bulb Girlfriend 2, a dynamic 2D platformer, players journey through dangerous terrain to reunite with their beloved. The game presents a series of challenges, including lethal red bulbs and perilous obstacles like flying bots and rotating blades. Your mission is to conquer advancement trials, collect energy potions, and reach your pink bulb companion. With eight escalating levels of heart-pounding action, this sequel engages gamers in an adrenaline-fueled quest for love.
How to play
The control system in this game is straightforward to master. Use the "WASD" or "Arrow" keys to navigate through the landscape. To perform a double jump - a crucial maneuver while confronting the game's obstacles - press the "W" or "Up" arrow key twice in succession. Your progression depends on your agility to avoid threats and successfully reach your girlfriend in each level.
Tips and Tricks
To succeed at this game, it's important to master the double jump technique as it allows you to evade enemies and hazards more effectively. Also, remember that rushing can lead to mistakes; take your time when facing new challenges. Lastly, keep an eye out for the bottles containing energy – they may be important for progression in later levels.
Features
An engaging story about love and adventure set across eight varying levels.
A plethora of challenging obstacles such as red bulb enemies, flying bots, rotating blades, and spikes.
A simple yet effective control system based on "WASD" or "Arrow" keys.
An increased difficulty curve, keeping players engaged and constantly challenged.
What are the best online games?