Teko vs Doov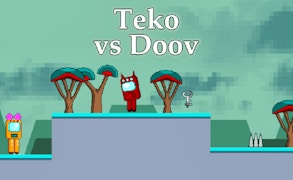 Teko vs Doov
Description
In Teko vs Doov, you embark on an exhilarating 2D adventure in a futuristic world. Your mission is to collect silver keys across 8 increasingly challenging levels, whilst evading a plethora of menacing robots and deadly obstacles. As you navigate through this thrilling Sci-Fi platformer, your agility and quick thinking will be put to the ultimate test.
How to play
Control your character using either the "WASD" or "Arrow" keys. Leap over hazards with a single press of the "W" or "Up" arrow key, and evade even the most treacherous obstacles with a double press for a higher jump! Reach the Exit door with your collected silver keys to advance to the next level.
Tips and Tricks
Mastery of the double jump technique is pivotal for success in Teko vs Doov. Use it not only to overcome high obstacles but also to dodge flying enemies. Anticipate ground saws and spikes - sometimes, quick reflexes can prove to be a lifesaver!
Features
Tense 2D Sci-Fi platformer gameplay.
8 different levels filled with unique challenges.
Varying enemy types including robots and flying bots.
Dangerous obstructions such as saws, ground saws, and spikes.
Silver key collection for level progression.
What are the best online games?