Tea Treatment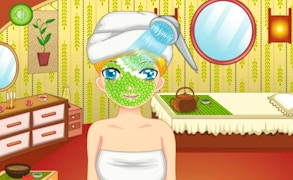 Tea Treatment
Immerse yourself in the world of beauty with Tea Treatment, a delightful entry in the realm of games for girls. This isn't your average makeover game. Oh, no. Tea Treatment is a unique hybrid enticing fans of both makeup games and tea connoisseurs.
Tea Treatment is a refreshing brew of makeup and skincare that allows girls to not just play with virtual cosmetics, but also learn about the beauty benefits of tea. Each rejuvenating session begins with choosing interesting tea extracts, transforming the ordinary task of makeup application into an enchanting adventure.
The brilliant interface presents an extensive palette of tea-extracts for players to choose from, each offering distinct beautifying properties. Green tea for detoxifying? Or maybe chamomile for soothing? The choices are just as varied as they are intriguing, adding a layer of educational value to this fun-filled game.
Dive headfirst into this unique fusion of beauty and wellness, learning the best combinations to create the perfect glow for your virtual model. Remember, it's not just about applying makeup; it's about embracing natural beauty that's amplified by the power of tea.
The graphics are arresting, animation smooth and gameplay intuitive - everything one could wish for in beauty-themed games for girls. Whether you're just venturing into the world of makeup games, or looking for an engaging twist, Tea Treatment promises a splendid journey all the way!
In essence, Tea Treatment, beautifully marries education with fun - an excellent choice in games targeting both creativity and knowledge - where every makeover indeed brews perfection!
What are the best online games?