TankWar.io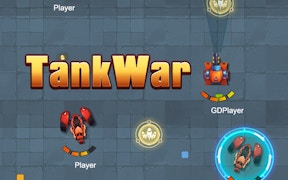 TankWar.io
Welcome to the thrilling battlefield of TankWar.io, where adrenaline and strategy become one. As a valuable addition to the realms of battle games, it's combustible, it's intense, and it demands your mettle, making it a must-try for any serious gamer with an appetite for destruction.
Stepping into the world of tank games, TankWar.io immediately sets itself apart. The moment you take command of your tank regiment, you are not just a player; you become a warlord on the digital battlefield. You're thrust into thrilling PVP clashes, with each victory or defeat forging your legacy.
As an addition to the league of mobile war games, TankWar.io leverages simplicity without compromising on excitement. The control scheme is intelligently designed and user-friendly, providing a seamless interface that allows you to focus on what matters most – strategizing and surviving.
Survival becomes an art in TankWar.io as this game breathes new life into survival games. It takes more than just speedy reflexes to survive – it takes tactical acumen and strategic thinking. The battlefield is dynamic and constantly changing, challenging players to adapt their strategies on the fly.
In conclusion, TankWar.io stands tall among its peers as an immensely enjoyable tank PVP game that balances simplicity with strategic depth. Its engaging gameplay is sure to captivate both veterans of battle games and newcomers alike. So gear up, lead your tank regiment to victory in this captivating war spectacle!
What are the best online games?