Swing Spikes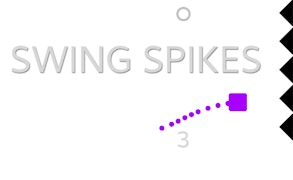 Swing Spikes
Description
Experience an adrenaline-fueled adventure with Swing Spikes, a lively and challenging game. Your agility and quick reflexes are put to the test as you navigate from side to side, while evading lethal spikes. As simple as it sounds, Swing Spikes is all about survival. How long can you outsmart the spikes? Easy to start but tough to master, this game will keep you glued to your screen for hours.
How to play
The gameplay of Swing Spikes centres around tapping. Tap either side of your screen to make your character jump sideways. Manage your jumps with precision as you dodge menacing spikes that appear randomly. The frequency and speed of these spikes increase over time, making it progressively challenging.
Tips and Tricks
In Swing Spikes, timing is crucial. Focus on the patterns of spike appearances to anticipate your next move. Don't rush! Take a moment between jumps - rushing might lead to colliding with the spikes. Remember, it's a game of survival, not speed!
Features
Addictive Gameplay: Simple yet challenging mechanics promise hours of fun.
Progressive Difficulty: The game gradually becomes more challenging, testing your reflexes at every level.
Sleek Design: Swing Spikes boasts minimalist graphics that allow for smooth gameplay.
Friendly Interface: The user-friendly interface ensures a seamless gaming experience.
What are the best online games?
Tags