Sweet Puzzle Time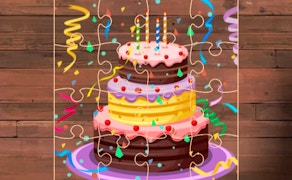 Sweet Puzzle Time
Dive into the fun-filled world of Sweet Puzzle Time, a vibrant and delightful concoction of brain games perfect for kids of all ages. Whether you're a seasoned puzzle enthusiast or a young novice looking to embark on a jigsaw journey, this game has something for everyone.
Sweet Puzzle Time offers an astounding blend of brain games and cooking-themed puzzles, making it an exceptional addition to the genre of games for kids. The game plays like a tantalizing recipe that slowly unfolds, testing your cognitive prowess and rewarding your tenacity with beautifully assembled images.
The game provides three different modes - easy, medium, and hard. This adds an element of adaptability that ensures the level of difficulty is just right for you at every step. And with no time limit imposed, players are free to solve these puzzles at their own pace, making the experience all the more enjoyable and relaxing.
Indeed, Sweet Puzzle Time stands out as one of those rare Games for Kids that adults will find just as engaging. As you progress through each challenging stage, you'll see your brain's ability to strategize and problem-solve dramatically improve - making this not only a fun adventure but also an excellent brain-training tool.
This exciting venture isn't just another puzzle game; it's an imaginative culinary journey which will keep your brain sharp and your spirit entertained. So if you're looking for top-notch cooking games or simply want to challenge yourself with some captivating puzzles, then Sweet Puzzle Time is definitely worth checking out!
In summary, Sweet Puzzle Time combines the joy of cooking with the thrill of solving puzzles. It's an educational yet highly entertaining game that holds broad appeal. Indulge in this sweet treat today and give your brain a well-deserved workout!
What are the best online games?