Sweet Kitty Spot the Difference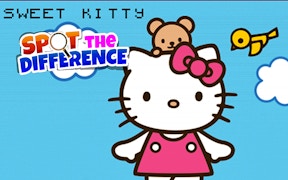 Sweet Kitty Spot the Difference
Embark on a purr-fect gaming journey with Sweet Kitty Spot the Difference, an enchantingly interactive online game for kids. This adorable and engaging game is packed full of fluffy felines, challenging enough to keep your kiddo's mind engaged and sharpen their observational skills.
Sweet Kitty Spot the Difference features a delightful range of cat-themed puzzles that stand out in the ocean of brain games. This game is not just about fun, it's an effective cognitive tool that aids in developing problem-solving abilities, bolstering concentration while enhancing memory power. It belongs to the rare breed of memory games which are designed to improve brain agility whilst being wrapped up in a package full of fun.
The concept of this game couldn't be simpler. It's all about finding those quirky differences between two seemingly identical scenes featuring our furry friends. But don't be fooled by its simplicity. The differences are cleverly hidden and will test every ounce of your attention to detail. The eye-catching graphics and cute kitty characters make this more than just one among many cat games. It stands big and tall with its uniqueness and perfectly balanced difficulty levels.
In essence, Sweet Kitty Spot the Difference combines the charm of adorable kittens with the mental stretch of a spot-the-difference game, making it an irresistible pick for your little ones. Those looking for a compelling gaming experience that combines fun with cognitive development can rest assured that their search ends here.
Say goodbye to monotonous brain training games and usher in bountiful feline-filled fun by diving into Sweet Kitty Spot the Difference. It's definitely a game worth getting lost in while improving those brain muscles!
What are the best online games?