Sweet Astronomy: Cookie Adventure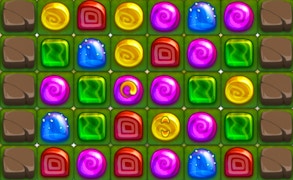 Sweet Astronomy: Cookie Adventure
Unleash your inner puzzle master with Sweet Astronomy: Cookie Adventure, an electrifying new chapter in the dynamic world of match 3 games. Blending together the classic charm of bejeweled games with a rich tapestry of jewel games, this cosmic-themed joyride offers a uniquely engaging gaming experience that will reshape your perception of conventional puzzle challenges.
From the first swipe of luscious cosmic candies, you'll find yourself propelled into a playfully challenging universe that brings the shimmering appeal of jewel games to life. The game fuels your appetite for dazzlingly sweet victories, all while testing your agility and strategic instincts as you strive to match 3 similar candies in tantalizing combinations.
The realm Sweet Astronomy: Cookie Adventure unlocks is both expansive and deeply immersive. It beautifully captures the essence of classic bejeweled games, using their time-tested mechanics to engage and enthrall players, while its stunning design elements feed your eyes with treats at every turn.
At every level, you'll be greeted with an array of vibrant cosmic candies begging you to swipe and switch them around. Unlike other stereotypical match 3 games, every puzzle in this saccharine-laden adventure eases you into an engagingly steely challenge, steadily escalating as you evolve in the game.
With each conquered level in Sweet Astronomy: Cookie Adventure, almost akin to polishing jewels in a grand jewel game alike quest, you'll garner a sense of accomplishment interspersed with moments of pure, adrenaline-fueled thrill.
In sum, Sweet Astronomy: Cookie Adventure is more than just another entrant in the realm of match 3 or bejeweled games. It stands out as a beacon for jewel game lovers on their eternal quest for intricate puzzles coupled with visual enchantment — making it an irresistible gaming allure!
What are the best online games?