Sushi Feast!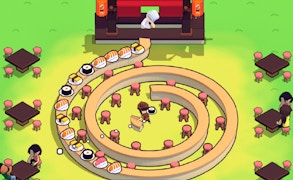 Sushi Feast!
Immerse yourself in the addictive world of Sushi Feast, an unmissable gem among match 3 games. Taking culinary inspiration from Japanese cuisine, this game cleverly combines elements of restaurant games and cooking games, resulting in a unique, gastronomic gaming experience.
The exciting gameplay of Sushi Feast is reminiscent of popular titles like Zuma, yet manages to carve out its own identity. As you aim and shoot at clusters of similar foods, your mission is to make them disappear. Achieving your targets leads to the completion of each level, providing you with the satisfaction that only well-executed strategy can offer.
The levels start off simple but don't let that fool you. As you progress further into this hungry beast of a match 3 game, the stages become increasingly more challenging. It's like stepping up from being a line-cook to a sushi master chef! Isn't that just what every fan of cooking games strives for?
The theme is whimsical and fun – it's not every day you'll find yourself shooting sushi in a restaurant! The eye-catching graphics and enchanting visuals bring the vibrant world of Sushi Feast alive while contributing significantly to its overall feel and charm.
If you enjoy challenges, love sushi - and who doesn't - or simply want to test your skills at mastering different stages, then Sushi Feast! is perfect for you. This is a must-play game in the realm of restaurant games, adding another layer to your gaming feast!
This isn't just about playing match 3; it's about creating your own sushi feast one level at a time. So take aim, make those sushi disappear, unlock new stages and bask in the glory of conquering this unique gastronomic adventure!
What are the best online games?