Superhero Pregnant Emergency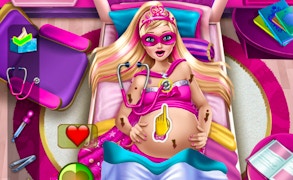 Superhero Pregnant Emergency
Prepare to step into a world of intrigue and delight with the Superhero Pregnant Emergency game, a riveting adventure uniquely tailored for girls and a standout among baby games. This unique fusion of motherhood and heroism provides an exciting spin on traditional operation games, where your mission is to help save our superhero mum-to-be by becoming the best doctor in the town!
The game premise is as intriguing as it is heartwarming. Our beloved superhero, in her undying commitment to keep the city safe, finds herself slightly injured after her latest mission. Now it's up to you, as the best medic in town, to ensure she's back on her feet and ready for her next big adventure.
What makes Superhero Pregnant Emergency so unique is its clever combination of excitement and educational content. The game doesn't shy away from teaching young players about various medical tools in an interactive way. As you navigate through the emergency room, you'll find different instruments that you can use to examine your patient's heartbeat, diagnose fractured bones, and ultimately ensure a speedy recovery.
Besides being one of the most engaging Games for Girls, this game shines in its ability to maintain player engagement through its strategic progressions. As your skills grow, so does the complexity of your tasks – providing a challenge that's not only fun but also beneficial to developing problem-solving abilities.
In conclusion, Superhero Pregnant Emergency is more than just another addition to online baby games; it's an exciting journey into heroism intertwined with maternal care - creating a thrilling gaming experience that inspires creativity while promoting essential life skills.
What are the best online games?