Superhero Adventure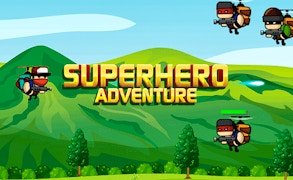 Superhero Adventure
Description
Get ready to step into the exhilarating world of Superhero Adventure Online Shooting Game, where heroes and villains encounter in fierce battles. Experience a dynamic character creation system, designing your perfect protagonist or antagonist. Engage in real-time combats with players worldwide in this action-driven narrative, promising an adrenaline-fueled adventure.
How to Play
You start by creating your character, choosing between a superhero or villain. Navigate using keyboard keys and use the mouse for aiming and shooting your opponents. Use your special powers strategically to gain an upper edge over enemies. Progress in the game by winning battles and gaining experience points, leading to power-ups.
Tips and Tricks
Always be on the move; staying stationary makes you an easy target. Practice shooting while moving to improve accuracy. Utilize your special powers wisely as they have cooldown periods. Remember, strategy matters; planning your attack can lead to victory against stronger foes.
Features
Diverse Character Customization: Create unique superheroes/villains according to your playstyle.
Real-time Battles: Challenge other players globally in intense multiplayer combats.
Action-packed gameplay: Fast-paced, thrilling encounters will keep you hooked.
RPG Elements: Gain experience points and level up, unlocking new abilities and powers.
What are the best online games?