SuperDoll Tongue Doctor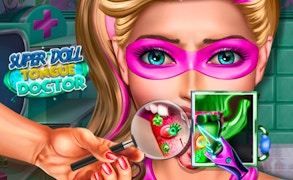 SuperDoll Tongue Doctor
If you're on the hunt for operation games that are perfect for young players, especially those who fancy Games for Girls, then SuperDoll Tongue Doctor could just be the gaming adventure you never knew you needed. Packed with exciting adventures, engaging tasks, and fascinating medical tools - this game takes kids on a delightful journey into the world of medicine.
SuperDoll Tongue Doctor's central character, Super Doll, gets into a little bit of a pickle when she eats berries unaware of her allergy towards them. The result? A host of rashes all over her tongue which calls for immediate medical intervention. This is where our young champions step in to embark on an epic adventure towards being Super Doll's savior.
In this operation game for kids, players join Super Doll in the doctor's office and are tasked with delivering fast and efficient treatment. It's all hands on deck as they set out to banish nasty bacteria, apply cream and even extend their care to her teeth. With each completed task, they are another step closer to returning Super Doll's flawless smile.
SuperDoll Tongue Doctor, like other high-quality games for girls online, thrills players with its amazing array of tools. These aren't just any tools – they're engaging features that aid in treatment while keeping the gameplay exciting and interactive. Players are exposed to various aspects of medicine in a fun yet educational manner which enhances their learning experience tremendously.
In conclusion, SuperDoll Tongue Doctor isn't just another operation kids' game. It's an interactive journey that stimulates curiosity about medicine while providing hours of entertainment. It's one among few games for girls that combine fun, adventure and education seamlessly into one spectacular package!
What are the best online games?