Super World Adventure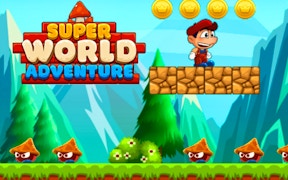 Super World Adventure
Rediscover the nostalgia of your favorite childhood pastime with Super World Adventure, an electrifying blend of classic Mario games, dashing running games, and heart-racing skill games. This title will have you leaping, sprinting, and diving through an impressive side-scrolling platformer that pays homage to the finest in retro games.
The first time you dive into the vibrant landscapes of Super World Adventure, you'll be transported back to the halcyon days of golden gaming. With over 100 meticulously crafted levels spread across four distinct worlds, each teeming with unique enemies and challenging obstacles, this game has depth like few others. It's a true testament to the enduring appeal of classic Mario games.
The gameplay is where Super World Adventure really shines. It keeps you on your toes with a series of thrilling running sequences, requiring razor-sharp reflexes and expert timing. But it's not just about speed – precision jumping and nimble navigation are equally important in this skill game that will test your mettle.
A standout feature of this title is its swimming mechanics. In a delightful twist on traditional platformers, many levels require you to dive into underwater sections. You'll need all your wits about you as you navigate these treacherous waters, superbly blending elements from both running games and skill games.
In conclusion, if you're a fan of retro games or Mario-inspired titles – or simply crave an exhilarating running game that demands dexterity – then look no further than Super World Adventure. This game is more than just a trip down memory lane; it's a delightful dash through a vibrant world that's sure to captivate gamers old and new.
What are the best online games?