Super Stickman Sling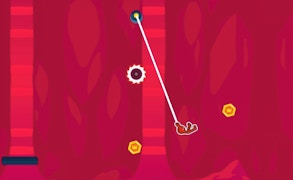 Super Stickman Sling
Welcome to the world of Super Stickman Sling, a realm where arcade action meets hyper casual gameplay. This exhilarating blend of genres brings forth an immersive gaming experience that sets new standards for Stickman Games and Hyper Casual Games.
As soon as you dive into the heart-pounding excitement of Super Stickman Sling, you find yourself hooked, quite literally, to an engaging quest of acrobatics and endurance. Through a simple tap-to-hook mechanism, the game challenges you to make incredible jumps and dodge obstacles with impeccable precision.
The gameplay is smooth with intuitive controls that make navigating through the game a breeze. It's all about timing your leaps perfectly to avoid each obstacle that stands in your way. More importantly, it's about executing all these acrobatic tricks in a row like a boss!
The joyously addictive nature of Super Stickman Sling lies in its simplicity. Unlike many contemporary arcade games that strive for complexity, this gem takes us back to the golden days when arcade games were synonymous with uncomplicated fun!
Its instantaneous and fast-paced action makes it an epitome of Hyper Casual Games, making it perfect for the busy gamer always on the go. It provides an abundant source of fun without demanding too much commitment.
In summary, if you're in pursuit of a thrilling journey filled with high-flying stickman stunts, Super Stickman Sling is your game! It offers exhilarating entertainment value for fans looking for exceptional stickman games,. With its innovative mechanics and non-stop action, Super Stickman Sling is truly a tour de force in the universe of mobile gaming.
What are the best online games?