Super Stickman Duelist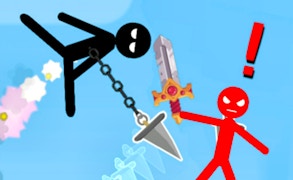 Super Stickman Duelist
Brace yourselves gamers, as we walk you through the thrilling world of Super Stickman Duelist, a game that seamlessly merges stickman games, battle games, sword games, and survival games into a riveting encounter packed with adrenaline and strategy.
This 2D stickman dueling arcade game stands out amongst its peers in the realm of stickman games. Here, your ability to duel with rotating cold weapons is challenged to the maximum, stirring up immersive gameplay that will keep you on edge, constantly strategizing your next move to outduel your opponent.
The crux of the game hinges on an intuitive concept: you need to attack and kill your enemy by rotating your character and weapon at each level. This unique gameplay mechanic adds a deep layer of strategic complexity absent in many mainstream sword games. The thrill escalates as you delve deeper into this survival game, unlocking more powerful weapons or even snatching them right from the bodies of fallen enemies or scattered platforms.
In Super Stickman Duelist, every level serves as a new battlefield, spiraling you into whirlwinds of action-packed clashes that test your agility and strategic thinking. This is not just a mere battle game; it's survival of the fittest. With each successful kill, you don't just progress through levels but also evolve in strength and capabilities. The feeling of power as you unlock stronger weapons is akin to leveling up in an RPG – it's rewarding and keeps you coming back for more.
Lose yourself in Super Stickman Duelist: a true blend of stickman games and sword games where survival is tantamount to glory. So gear up, gamers! It's time to ignite your dueling spirit and prove that when it comes to the art of weapon rotation – you're undeniably the best!
What are the best online games?