Super Oscar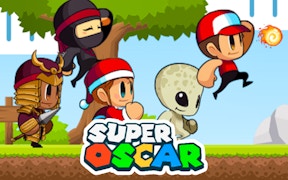 Super Oscar
Description
Join the fun in Super Oscar, a thrilling arcade-style adventure game. Our favorite hero is back with new friends and they're ready to conquer all worlds! Engage in an exciting journey through 6 stunning, diverse worlds, with more to be added soon. Take on over 35 challenging levels and pit your skills against more than 50 unique enemies. Choose your preferred character from the four available ones - each with their own quirks!
How to play
The game is easy to grasp, making it perfect for both beginners and seasoned pros. Navigate through levels using the standard arrow keys to move your character left, right or jump. Collect power-ups and defeat enemies to further your progress throughout the game. Your objective is to reach the end of each challenging level, where a boss awaits you.
Tips and Tricks
Always stay alert for any incoming enemies or obstacles. Timing your jumps perfectly can help avoid enemy attacks and traps. Don't forget to collect as many power-ups as possible - they provide essential bonuses that can bolster your gameplay progress.
Features
Six beautifully-crafted worlds with more coming soon.
35 challenging levels, each one different from the last.
An array of enemies: Over 50 types of enemies await you.
Selectable characters: choose from four different characters, each with unique traits.
What are the best online games?
Tags