Super Nitro Racing 2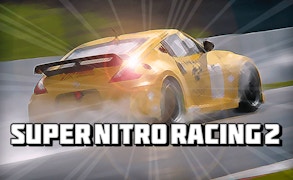 Super Nitro Racing 2
Description
Shift into gear and feel the thrill in Super Nitro Racing 2, a game that encapsulates the essence of the iconic 80's arcade racing games. With 21 challenging circuits, you'll find yourself absorbed in a world of colorful graphics, intense soundtracks, skilled driving, and fierce competition. Each car boasts a realistic handling system with a nitro boost for those critical moments. Get ready to immerse yourself in the extreme rally arcade racing experience!
How to Play
In Super Nitro Racing 2, your goal is to finish each race first by mastering your car's control system. You navigate with directional keys on the keyboard or touch controls on mobile devices. As you race through different circuits, use your Nitro Boost wisely for exceeding speed limits when necessary. Keep an eye on your engine sound to maintain optimal speed and activate turbo boost.
Tips and Tricks
To win races in Super Nitro Racing 2, it's all about managing your speed and handling corners effectively. Listen closely to your engine's sound; it hints when you're at the right speed for turbo activation. Use nitro boosts strategically rather than burning them out early in the race.
Features
21 varied rally tracks that present unique challenges.
Realistic car physics, offering engaging gameplay.
Cool audio soundtrack and sound effects, enhancing immersion.
Crisp 2D graphics, bringing colorful visuals to life.
Nitro Boost mechanic, adding an extra layer of strategy.
Real car handling, providing a deep and satisfying control experience.
What are the best online games?