Super MX - Last Season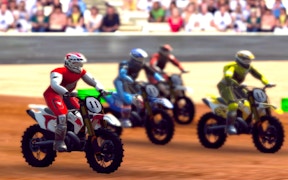 Super MX - Last Season
Rev your engines, gaming enthusiasts, because our latest review dives into the adrenaline-fueled world of Super MX - Last Season. As one of the standout titles in dirt-bike-games, it's a thrilling crossroad between strategy and speed that'll have you teetering on the edge of your gaming chair.
Super MX - Last Season doesn't just offer fast-paced racing excitement; it introduces an immersive experience that converts you into a virtual bike rider. It's not just about riding or racing; it's about conquering every challenge thrown at you on the dirt track. Even off-track, the competition is fierce - from selecting a supercool outfit for your head-bobbing avatar to customizing your dirt bike. This game levitates you from being simply a player to an integral part of this immersive motorcycle-game.
The game incorporates realistic physics, adding to its allure as one of the best simulator games currently available. The in-game physics don't just resonate with reality but make every race more dramatic, intense, and unpredictable. The thrill of drifting around bendy tracks has been perfectly captured in this game making it an instant favorite among drifting-games.
The beauty of Super MX – Last Season lies not just within its gameplay or graphics but also within its progressive difficulty levels that'll constantly keep you on your toes. Whether you are a novice rider or hold experience; whether your forte lies in driving games or speed thrills you; there's something for everyone.
In conclusion, Super MX - Last Season makes for a high-octane experience that seamlessly blends elements from various genres like simulator games, dirt-bike games and drifting games, presenting an action-packed extravaganza for racing fans.
What are the best online games?