Super Jump Box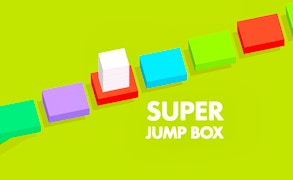 Super Jump Box
Description
Get ready for a high-octane, fast-paced adventure in Super Jump Box! This game will test your reflexes and quick decision-making skills as you tap colored buttons to make your avatar jump on the corresponding colored platforms. The game gets progressively challenging, providing an endless stream of fun and excitement as you accumulate points and strive to beat your personal best. It's the ultimate test of speed, accuracy, and coordination.
How to Play
The controls of Super Jump Box are straightforward - simply tap on the appropriate colored button to make the avatar jump onto the same colored platform. The challenge increases as you progress, with speedier jumps required to stay afloat. Precision is key in this game, so be quick and meticulous with your tapping. Remember, it's not just about surviving; it's about earning those coveted high scores!
Tips and Tricks
The key to success in Super Jump Box is mastering quick reaction times. Stay focused on the upcoming platforms and anticipate their colors. Try not to hesitate - even a moment's delay can cause a misstep. And remember: practice makes perfect! The more you play, the better you become at predicting and responding to each color change.
Features
Addictive Gameplay: Simple yet challenging mechanics keep you coming back for more!
Compete with Friends: Push yourself hard to get that top score on the leaderboard.
Mesmerizing Visuals: Bright, eye-catching colors add an extra layer of appeal.
Global Competition: Test your skills against players from around the world and see where you stand.
What are the best online games?