Super Girl Story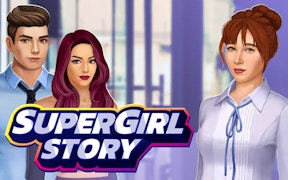 Super Girl Story
Immerse yourself in the world of aesthetic fashion and captivating plotlines with Super Girl Story, a dynamic option for Games for Girls. This intriguing game isn't just another addition to the realm of Trivia Games but an adventure that leads one to live a life filled with choices, mystery, and romance.
The premise revolves around a young assistant navigating her way through the bustling streets of fancy Manhattan Fashion Agency. Every choice you make as a player affects your narrative and interaction with other captivating characters. Its unique feature of creating a fluid storyline based on user choices provides an engaging and highly personal gaming experience.
In this fabulous adventure, be prepared to uncover secrets that will leave you wide-eyed. The enveloping conspiracy surrounding the creation of a super girl, unfolds as your character develops over time. This gripping narrative undoubtedly keeps players hooked for hours on end!
Super Girl Story not only scores high on 'choose your adventure' quotient but also emerges as an unrivaled contender in the domain of trivia games designed specifically for girls. This game skillfully blends elements of lifestyle, suspense, drama, and fashion into its gameplay making it unmissable!
Audaciously empowering and thrilling, Super Girl Story lends itself to the genre of online games that use storytelling as an innovative approach to engage users. A hands-down recommendation for those who love living virtual lives full of choices, fashion, drama, secrets and above all - an unforgettable gaming experience.
This engaging blend of trivia and interactive storytelling is a standout in the ever-expanding universe of online games for girls. Give Super Girl Story a whirl if you're looking for an engrossing narrative journey filled with secrets just waiting to be unraveled!
What are the best online games?