Super Friday Night Squid Challenge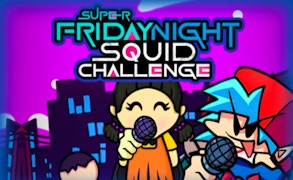 Super Friday Night Squid Challenge
Immerse yourself in the enthralling universe of the Super Friday Night Squid Challenge, an innovative fusion of music games and skill games that redefines the arcade genre. Thrust into a game of survival where rhythm is your only ally, your role is to help Boyfriend and Girlfriend reclaim their fortune by staying alive in a high-risk, high-reward scheme worth an astounding 38 million USD.
This is much more than a simple gamble. The Super Friday Night Squid Challenge blends rhythmic precision with tactical judgement, as you dance your way through diverse songs spread across numerous weeks. Music pulsates at the heart of this game like a steady heartbeat, dictating not only your moves but also your survival. Miss an arrow at your peril; dance on point and you might live to see another day.
The game's environment encapsulates a unique blend of thrill and terror amplified by 12 immersive levels guaranteed to keep you on the edge of your seat. Many are destined to perish but fear not - let your fingers do the dancing and hone your skills to survive this brutal musical showdown.
The stakes are high in Super Friday Night Squid Challenge. It's a deadly dance-off for 38 million USD where determination, agility and rhythmical prowess are just as valuable as luck. Every action counts, every beat matters - it's survival of the fittest... or should we say, the most rhythmically inclined!
This arcade experience is vividly reminiscent of "The Hunger Games", yet with an added rhythmic twist that takes it to an entirely new level. Don't miss out on this electrifying rollercoaster of a game where adrenaline-pumping action meets melodic chaos - Super Friday Night Squid Challenge.
What are the best online games?
TAGS