Super Friday Night Funkin'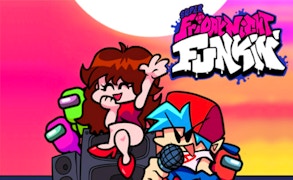 Super Friday Night Funkin'
Immerse yourself in the captivating world of rhythm and precision with the newest addition to the arcade genre, Super Friday Night Funkin'. This dynamic game is a remarkable fusion of music games and skill games, designed to test your rhythm and timing to its very limits.
In Super Friday Night Funkin', players are drawn into an electrifying ritual of music. The game asks you not just to listen, but to be part of the performance. With every note, you're tasked with pressing the corresponding button at the perfect moment. A split-second decision can make all the difference between an agreeable tune and a symphony of mishaps.
The heart of this game lies within its unique approach to combining traditional arcade mechanics with elements from both skill games and music games. It's this hybrid nature that makes Super Friday Night Funkin' stand out from its counterparts. Every beat becomes a pivot point for scoring progress, transforming each song into a high-octane race for points.
The real magic happens when you bundle all these beats perfectly and start compiling mammoth scores. There's a distinct sense of satisfaction when your fingers dance fluidly over the buttons, creating a seamless stream of notes that builds into an intoxicating melody. It's here where Super Friday Night Funkin' truly shines as one of the most engaging music games around.
In conclusion, whether you're an ardent fan of skill-based challenges or simply enjoy getting lost in immersive rhythm gaming experiences, Super Friday Night Funkin' will give you an experience unlike any other title in this category. Show the world that not only can you tap to beat but create harmonious melodies too - proving once and for all that you're truly the best!
What are the best online games?
TAGS