Super Cowboy Run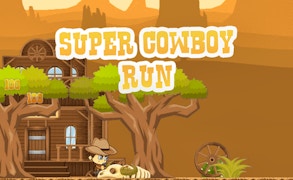 Super Cowboy Run
Description
In Super Cowboy Run, you take the role of a brave cowboy in a danger-filled platform adventure. This is not just about running as long as possible – it's about survival. Unpredictable zombies pop out, monster wheel roll at you, and fearsome birds drop feather bombs. A constant bombardment of threats make this game an exhilarating challenge to run, jump, and shoot your way to safety.
How to play
Getting a hang of the controls is crucial in Super Cowboy Run. Use your arrow keys to navigate the cowboy: up to jump over wheels and down to slide under flying feather bombs. Be vigilant of zombies and monsters surfacing from the landscape - use your space bar to shoot them down and build your score.
Tips and Tricks
Timing is everything in this running game. Carefully observe the patterns of threats to know when to jump, slide or shoot. A good strategy for beginners is focusing on surviving rather than scoring high initially. As you become more comfortable with threats, gradually focus on shooting for higher scores.
Features
Mesmerizing graphics: Delightful visuals create an engaging environment.
Diverse threats: Variable zone challenges keep you on your toes.
Addictive gameplay: The run-and-shoot dynamics keep players engaged.
Skill building: The game progressively demands sharp reflexes and quick decision-making skills.
What are the best online games?
Tags