Super Arrowman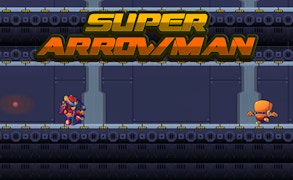 Super Arrowman
Description
Dive into the realm of Super Arrowman, an enthralling action-platformer game that hurls you into a world of robotic chaos. With a captivating storyline, this retro-style game thrusts you into the shoes of a brave hero on a mission to annihilate robotic foes while amassing a fortune in coins. The pursuit for high scores makes it all the more gripping.
How to play
Steer your character with keyboard arrow keys, and press space bar to fire arrows at your enemies. Collect as many coins as possible while avoiding or eliminating robotic adversaries. Progression in the game hinges on your ability to battle foes effectively while gathering coins that boost your score.
Tips and Tricks
Take time to master your aim, as precision can determine success or failure against the robots. Be strategic about your coin collection – it's not just about quantity but also timing. Using cover effectively can help you evade attacks and gain an advantage against opponents.
Features
Retro-style graphics reminiscent of classic games.
Action-packed gameplay with numerous enemies.
A wealth of coins to collect and scores to beat.
A dynamic environment that keeps players fully engaged.
In-depth scoring system rewards both strategy and skill.
What are the best online games?
Tags