Sun and Moon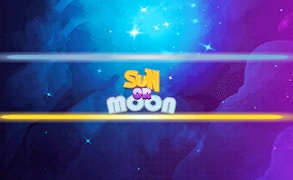 Sun and Moon
Description
In Sun and Moon, journey through galaxies and constellations to conquer your foes. Each constellation sets a unique battlefield, with various types of planets adding to the complexity of the game. It's not merely about combat but strategic planning. Challenge increases as you progress, creating a thrilling gaming experience that tests your tactical acumen.
How to play
Your objective is to defeat enemies within the given time limit on each level. The game's controls are straightforward: click or tap on your targeted planet to attack. Remember, different planets pose different levels of difficulty. Strategize effectively to conquer them within the allotted time and advance through increasingly challenging constellations.
Tips and Tricks
Don't rush into battles; instead, focus on developing an effective strategy. Learn how different planets affect the game mechanics and plan accordingly. Remember, advancing quickly might lead to higher levels but without a proper strategy, defeating tougher enemies will become impossible.
Features
Engaging battles set in various galaxies and constellations.
Diverse planets with unique difficulty levels add layers of complexity.
Fantastic graphics that create an immersive galactic experience.
A progressive game design that challenges strategy-building skills.
What are the best online games?