Summer Fiesta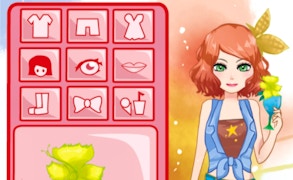 Summer Fiesta
Step into a vibrant, sun-drenched world with Summer Fiesta, a charming entrant in the Games for Girls genre. Aimed squarely at the lovers of dress up and makeup games, Summer Fiesta brings to you an array of cute tops, bottoms, dresses, shoes and accessories to adorn your digital avatar.
As the mercury soars high in the digital realm, style appears to be the saving grace. With Summer Fiesta, players can truly let their creativity run amok - from matching a floral sundress with gladiator sandals to finishing off a denim shorts and crop top look with a chic hat. But that's not all! The fun continues as you get to pick the perfect hairstyle to complete your summer ensemble.
The dress-up games are more than just superficial fun; they encourage creative thinking, strategy making and even help build a sense of style and fashion among young players. The element of choice offered by Summer Fiesta deepens its appeal, allowing every player to explore their own unique taste while having fun in a safe virtual environment.
The makeup games add an extra layer of excitement to this summer-themed extravaganza. Experiment with different colors and styles - bold lip colors or smoky eye-shadows; it's all about expressing your style. The game also comes with easy-to-use controls ensuring that even the smallest hands can master it in no time.
In conclusion, Summer Fiesta is not just a game; it's a wonderful platform for players especially girls to explore their creativity in fashion while soaking up some (virtual) sunshine this summer. Dive into an ocean of fun and fashionable possibilities with Summer Fiesta today!
What are the best online games?