Submarine Shooter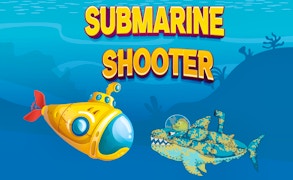 Submarine Shooter
Description
Immerse yourself in the underwater warfare of Submarine Shooter. This is an exhilarating online shooting game where you commandeer a submarine and dive into intense battles under the sea. With stunning graphics and riveting gameplay, your mission is to obliterate as many foes as you can. Will you survive the oceanic onslaught or will you sink beneath the waves?
How to Play
Control your submarine using your keyboard's arrow keys, moving fluidly through the deep blue sea. Use your mouse to aim and left-click to unleash torpedoes at incoming enemies. The more enemies you destroy, the higher your score climbs. Keep an eye on your submarine's health and replenish it using in-game power-ups.
Tips and Tricks
Maintain a safe distance from enemy submarines and use obstacles under sea as cover. Keep an eye out for power-ups that will boost your health and weapon levels. Accuracy matters; remember, in the deep sea environment, every torpedo counts!
Features
Fast-paced real-time multiplayer game.
Gorgeous underwater graphics that enhance the gaming experience.
In-game power-ups to boost health and weapons.
A leaderboard to compare scores with other players globally.
What are the best online games?