Stunt Simulator Multiplayer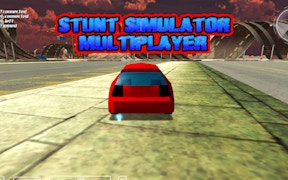 Stunt Simulator Multiplayer
Unleash the daredevil within you with the thrilling Stunt Simulator Multiplayer, one of the most exhilarating racing games available in the gaming world today. Steeped in a heart-pounding blend of thrilling stunts, high-speed chases, and gravity-defying leaps, this game is a testament to adrenaline-fueled car games that will leave your pulse racing and your heart desiring for more.
The beauty of Stunt Simulator Multiplayer lies within its sheer versatility. Not simply limited to driving games, it also branches out as one of the most dynamic truck games. The powerful roar of these gigantic machines coupled with their daunting presence presents players with an unparalleled gaming experience.
Apart from focusing on raw speed and razor-sharp reflexes, Stunt Simulator Multiplayer also happens to be among the top-tier drifting games. The subtlety behind mastering the art of drifting around corners at breakneck speeds brings a strategic element to this otherwise fast-paced game. And for those who prefer an immersive gameplay experience, it also doubles as one of the more authentic simulator games.
The intuitive controls complement its intricate gameplay nicely. Maneuver your car with WASD or arrow keys, boost your speed with Left Shift, and skid around corners using Space for Handbrake. Packed into this are features like Reset Car (R), Chat (T), and a Pause Menu (Tab). Collect points by performing awe-inspiring stunts and drifts; accumulate enough to purchase the rest of the cars for a diverse array of gaming experiences!
In a nutshell, Stunt Simulator Multiplayer is a smorgasbord offering an abundance of rich gaming experiences tailored for any racing enthusiast. So strap in, rev up your engines and prepare to plunge into an exclusive world crafted meticulously around speed and spectacle!
What are the best online games?