Stunt Biker 3D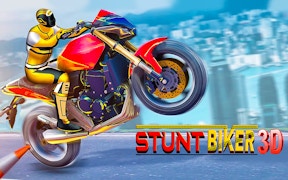 Stunt Biker 3D
Experience adrenaline-fuelled action and heart-stopping moments as you skillfully navigate through treacherous terrains in Stunt Biker 3D, one of the most riveting dirt bike games currently on the market. With stunning graphics, physics-driven gameplay, and a seemingly endless array of hair-raising stunts, it's a must-play for all fans of motorcycle games and driving games.
The game caters to both casual gamers who are looking for a fun way to pass time, and seasoned riders who are eager to test their mettle. Stunt Biker 3D places you in the driver's seat, challenging your patience, precision, control, timing, and driving skills. The immersive 3D environment and true-to-life bike physics offer a realistic off-road experience that is rarely found in other Offroad games.
This game excels at combing elements from various popular genres - there's a dash of thrill from drifting games, coupled with the raw excitement characteristic of intense dirt bike racing. This game is not just about speed; it also requires technique and strategy. Whether you are trying to beat the clock in time trial mode or racing against fierce competitors in championship mode, every second counts.
In conclusion, Stunt Biker 3D guarantees excitement with its challenging obstacle courses and high-risk stunts combined with top-notch controls that respond beautifully to your commands. It's an exhilarating roller-coaster ride guaranteed to keep you on the edge of your seat from start to finish! For those seeking a blend of speed, skill, and suspense coupled with stunning visuals and engaging gameplay mechanics - look no further than this standout title in the realm of virtual motorcycle racing.
What are the best online games?