Straight 4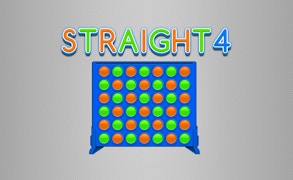 Straight 4
Are you on the hunt for family games that can keep both the young ones and adults engaged? Then look no further than Straight 4, a superbly crafted HTML5 Logic Game that fits the bill perfectly.
This highly engaging game effortlessly earns its spot among top-tier 2 player games, with its creative design and brilliant strategy-driven gameplay. It's a top-notch choice for those who are searching for Games for Kids. But don't be fooled by its simplicity - it's far from being just another kids' game. Straight 4 is a fun and challenging brain teaser that's perfect for everyone in the family.
The premise of the game is simple, yet addictive: drop your discs into the columns of the game grid, strategically aiming to create a line of at least four chips either vertically, diagonally, or horizontally before your opponent does. The tension builds each turn as you and your opponent carefully strategize your moves, making it one of the best fun games out there.
The beauty of Straight 4 lies in its capability to be quick and easy to learn but hard to master, giving it enormous replay value. The vivid design coupled with fantastic gameplay makes Straight 4 an instant classic among board games.
In conclusion, if you're looking for a captivating family-friendly game that blends strategy, logic, and quick thinking into one delightful package - Straight 4 is not to be overlooked. Be ready to challenge yourself and your loved ones in this fun-filled board-game adventure.
Straight 4
, It's more than just a game; it's an exciting experience for every member of your family!
What are the best online games?