Stickman Swing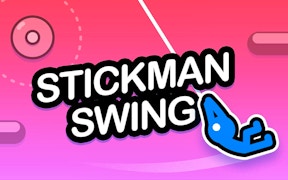 Stickman Swing
Step into the exhilarating world of Stickman Swing, one of the most addictive entries in the field of stickman games, delivering an unmatched hyper-casual gaming experience. This brain game stands out from the crowd with its simple controls, innovative gameplay, and unlimited levels guaranteed to keep you hooked for countless hours.
Imagine yourself as the boss of stickmen, showcasing your acrobatic prowess by performing crazy stunts that will leave fans of Hyper Casual Games utterly thrilled. The thrill is not just from the swinging and jumping; it's also about demonstrating your quick thinking to strategically avoid obstacles at all costs.
The mechanics are straightforward: tap to hook. But don't let this simplicity fool you. The real challenge lies in mastering the art of swing timing and precision, pushing your cognitive abilities to their limit in this uniquely challenging brain game.
An additional layer of excitement arises from the funky urban theme which enhances the aesthetic appeal of Stickman Swing, immersing players fully into its engaging environment. The fun never stops with its unlimited levels that keep evolving making it one of those stickman games you can play forever.
Inspired by our friendly neighborhood Spiderman, Stickman Swing lets you experience what it's like to swing from place to place, albeit in a stick figure form. So, grab hold of your grappling hooks and bouncers because it's time to take a dive into this captivating world reminiscent of a 'Spider-Man stick edition' experience!
In conclusion, Stickman Swing sets a high standard for future Hyper Casual Games. Its delightful blend of brain-testing puzzles, high-octane acrobatics, and relentless obstacle courses make it not just another stick man game but a standout performer that's not to be missed.
What are the best online games?