Stickman Sports Badminton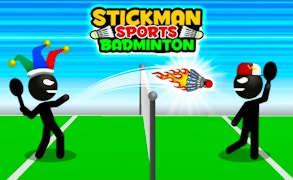 Stickman Sports Badminton
Immerse yourself in the fast-paced world of Stickman Sports Badminton, a game where stickman characters convene for a hearty match of virtual badminton. A veritable treasure among fun games, this digital duel combines the charm of ball games and the quirkiness of stickman games. As a bonus, it's one of those adaptable 2 player games that can also be enjoyed solo.
The game is set apart by its authentic ball physics, making dives, smashes and drop shots as realistic as it gets. It's not just a test of timing and agility but also an exciting exploration into the physics of badminton. The added thrill comes from game boosters like the big racket or fireball, which turbocharge your gameplay, while some negative bonuses, such as slowing you down, keep you on your toes.
As one of the flexible, fun 2 player games, Stickman Sports Badminton accommodates both single-player mode and duo play. Against the computer (CPU), you can choose between 'Normal' and 'Hard' modes to test your mettle in differing degrees. But what sets this game apart among other ball games is the ability to choose how long you want your badminton battle to be – with options for 5, 7 or 9 sets!
In conclusion, this game is more than merely an addition to your repertoire of stickman games - it's an entrancing blend of real-time action, strategizing and pure fun. So gear up and let Stickman Sports Badminton serve you a play experience that keeps you coming back for more!
What are the best online games?