Stickman Skate 360 Epic City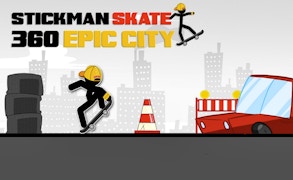 Stickman Skate 360 Epic City
Welcome to the adrenaline-pumping universe of Stickman Skate 360 Epic City, a game that deftly combines the thrilling elements of stickman games, skateboard games, and skill games. Enter an urban jungle teeming with high-speed action, towering jumps, and lethal warriors. It's not just about surviving; it's about mastering the concrete labyrinth with your skateboard prowess.
As a fearless Stickman Skater, your mission is simple yet intensely challenging. You are required to ride across the city, executing mind-blowing tricks and gravity-defying jumps to conquer each level. But it isn't just about acrobatics; speed management plays a pivotal role in your path to victory. Crank up your velocity for those mammoth leaps but dial it down when precision is key.
Ruthless enemies lurk around every corner - you're not only racing against gravity but also dodging a barrage of brutal warriors hell-bent on mangling you. Your survival depends on your skill at combining agile movement with rapid reflexes and strategic speed modulation. And then there's their boss - a colossal menace who will stop at nothing until he's taken you down. Are you ready for the exhilarating challenge?
In summary, Stickman Skate 360 Epic City takes traditional <<b>stickman games> and infuses them with the excitement of <<b>skateboard games> whilst demanding the finesse typical of <<b>skill games>. The result is an action-packed journey that pushes your gaming skills to their absolute limit in the best way possible.
If you're looking for a game that tests your timing, precision, speed management, and your nerve in one fell swoop - make Stickman Skate 360 Epic City your next stop!
What are the best online games?