Stickman Rock climber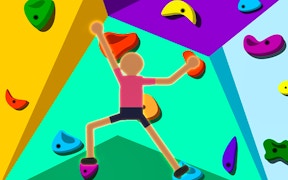 Stickman Rock climber
Description
In Stickman Rock Climber, you're not just a stick figure—you're a rock climbing enthusiast, defying gravity on intricate climbing walls. This game is your chance to demonstrate your strength and guts across 15 exciting levels, each offering its own distinct challenge. See if you have what it takes to conquer the wall and earn the title of top rock climber.
How to play
The game's controls are simple to use but challenging to master. Use your keyboard's arrow keys or onscreen buttons to maneuver your stickman up, down or sideways on the climbing wall. Use your skills wisely to avoid hazards and reach the top. Progress through 15 thrilling levels, each requiring more skill than the last.
Tips and Tricks
Plan your moves strategically rather than rushing through the levels. Observing the path ahead can reveal smoother routes and hidden obstructions. Remember that timing is crucial in this game—taking things slowly can spare you from a disastrous fall.
Features
Variety of Levels: Stickman Rock Climber boasts 15 diversified and challenging levels.
Precise Controls: Accurate controls give you a realistic feeling of rock climbing.
Addictive Gameplay: The progressively difficult gameplay keeps gamers hooked.
Friendly Interface: Simplistic design ensures a smooth user-experience for players of all ages.
What are the best online games?