Stickman Fighting 2 Player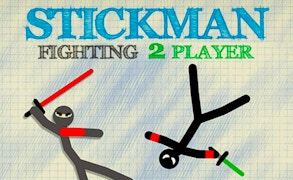 Stickman Fighting 2 Player
Get ready to embrace the turbulent and thrilling world of Stickman Fighting 2 Player, a game that expertly melds the elements of stickman games, battle games, ninja games, sword games, and survival games. From its engaging multiplayer mode to its realistic ragdoll physics, this title truly stands out in the crowded market of 2 player games.
In Stickman Fighting 2 Player, you're not simply a player; you become an emblem of valor engaged in heroic fights akin to those of western cowboy mythologies. The pace is fast, the action relentless, testing your reflexes at every turn. The game pushes you – compels you – to keep fighting till your last drop of virtual blood.
The game's fighting mechanics mirror the thrilling chaos of real boxing games. The punch and kick dynamics are far from simplistic - they require timing, skill and a keen sense of your opponent's next move. This isn't an ordinary stickman fighter physics game. It demands strategic thinking and swift decision-making.
The multifaceted nature of Stickman Fighting 2 Player also extends to its modes - switch effortlessly from a single-player face-off against formidable AI to a cooperative duel with a friend using well-mapped controls: Arrows for one player; WASD for another.
The dark yet expressive doodle-style art adds an intriguing layer to this survival game. You're in for an adrenaline rush as you navigate through treacherous arenas that test your resolve at every corner. Brace yourself for a rollercoaster ride in the best Stickman game that has captured the very essence of ninja fighting games atmosphere.
All in all, Stickman Fighting 2 Player has emerged as a fantastic fusion of stickman games and battle games, masterfully incorporating elements from ninja games and sword games into its exhilarating survival gameplay. Get ready for a compelling journey that will challenge your warrior spirit and satisfy your craving for high-octane action!
What are the best online games?