Stickman Fighter: Mega Brawl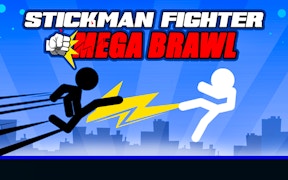 Stickman Fighter: Mega Brawl
Enter into the enthralling world of intense combat with Stickman Fighter: Mega Brawl- an unparalleled foray into the electrifying universe of stickman games. This battle game takes you on a thrilling ride through the rugged battlegrounds where survival is the key to dominance, cementing its place as one of the top-tier survival games.
The gameplay is all about composure under pressure, edgy fight sequences and raw power. It's a ruthless battlefield out there, and there's no room for mercy! As a stickman warrior, your primary focus is to annihilate every other opponent in sight. Be it stickmen adversaries or epic Stick Bosses, your mission is to exterminate them all.
The staggering array of formidable weapons at your disposal makes this even more exhilarating. The game offers tons of super skills, special technics, enchanting magic spells, and other destructive moves that add an extra layer of excitement to this adrenaline-fueled fight fest.
But what truly sets Stickman Fighter: Mega Brawl apart from other battle games is the strategic component that it seamlessly weaves in. The game challenges not just your reflexes but also your tactical acumen - making every brawl an intriguing balance between merciless assault and calculated strategy.
In conclusion, whether you're a fan of stickman battles or hardcore survival games in general, Stickman Fighter: Mega Brawl is a must-try. It brings an authentic blend of action-packed combat and strategic gameplay - delivering an unforgettable gaming experience that is sure to keep you hooked for hours on end!
What are the best online games?