Stickman Fall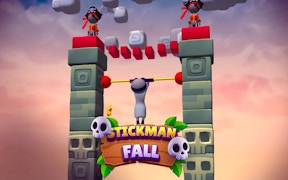 Stickman Fall
Prepare for a thrilling adventure with Stickman Fall, a top-tier entry in the arcade, stickman-games, and escape-games categories. Stickman Fall presents an intriguing challenge that defies gravity itself, inviting players to descend from towering heights using nothing more than plungers!
The game's control mechanics may tempt you into a sense of simplicity - all it requires is a space key press or a long tap on your mobile device. But hold tight! This seeming simplicity masks an escalating level of difficulty and unpredictability that will keep you on the edge of your seat.
Stickman Fall isn't just about the drop - it's also about the daring protagonist who risks it all in this unique descent. Who is this stalwart stick figure? What narrative threads weave through those perilous pillars and barriers that obstruct his path? This arcade game not only tests your reflexes but challenges your imagination too.
The gameplay emphasizers reaction time and precision; two cornerstones of all effective skill-games. It's not just a matter of quick fingers, but also deep strategy, as you must calculate exactly when to halt, especially when the finish zone is in sight. The thrill of victory intermingles with the threat of defeat - each dive more enthralling than the last!
To conclude, Stickman Fall offers an exhilarating experience packed with excitement, challenge, and mystery within its unique premise. Whether you're an avid fan of stickman games or escape games or you simply love a good arcade game - this one deserves your undivided attention. Take the plunge!
What are the best online games?