Stickman 3D Legacy of War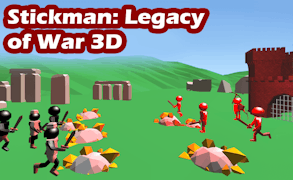 Stickman 3D Legacy of War
Description
In Stickman 3D Legacy of War, you enter the thrilling world of stickman soldiers. The game leverages immersive 3D graphics to bring this epic fight into life. As commander, your task is to strategize, deploy, and lead your stickman army in a ferocious war against powerful enemies. With varying maps and numerous campaigns to conquer, you must rely on your strategic acumen to emerge victorious.
How To Play
The game is controlled with ease through simple mouse mechanics. To deploy your stickman soldiers, click on the unit icons at the bottom of the screen. Direct your troops by clicking on the target location or enemy units. Your progress in the game depends on how well you manage resources, upgrade units and devise winning strategies over diverse battlefields.
Tips and Tricks
Balancing your army composition is crucial in Stickman 3D Legacy of War. Don't just amass one type of unit; diversity is key for countering varying enemy strategies. Efficiency in resource management and timely upgrades will pave way for victory. Also, utilizing unique features of different maps can turn the tide in your favor.
Features
The game offers many exciting features:
Diverse units: Unlock new and varied stickman soldiers with unique abilities.
Innovative maps: Battle across diverse terrains with their own unique features.
Strategic gameplay: Outwit your enemies through careful planning and strategy.
Vibrant 3D graphics: Enjoy a visually appealing game with realistic battlefields and animations.
What are the best online games?
Tags