Stick War: Infinity Duel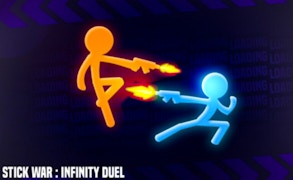 Stick War: Infinity Duel
When it comes to the electrifying world of fighting games, the realm of stickman games has carved out its own high-octane niche. With Stick War: Infinity Duel, you're stepping into a battleground teeming with unending action. A survival game that keeps you on the edge of your seat, merging the intensity of battle games and the exhilarating rush of gun games.
The adventure begins when you dive headfirst into the thrill-ride that is Stick War: Infinity Duel. Your mission? To grab a falling gun from mid-air, take aim and vanquish your stickman adversary in this cutthroat war game. With weapons cascading down onto the battlefield at regular intervals, your survival hangs in the balance. You must be fast to secure your arsenal and faster to take down your enemy.
A wave of excitement washes over as you try to maintain your balance on moving tracks, a challenging twist that demands swift reflexes and extreme agility. The adrenaline rush that infuses every fibre of your being as you focus all your attention on grabbing weapons and annihilating your adversary is intoxicating.
If you're on the hunt for intense 2 player games, look no further! Stick War: Infinity Duel welcomes you to engage in unforgettable battles with friends at school or anywhere else! Its innovative multiplayer option is a testament to its appeal among war games enthusiasts seeking shared victory or defeat.
This game, with its vibrant visuals and immersive gameplay, is likely to ensnare any fan of stickman games or survival games, pulling them into an immersive experience they won't easily forget. Hihoy Games have indeed outdone themselves with this offering, promising and delivering endless fun!
.
What are the best online games?