Ultimate Robo Duel 3D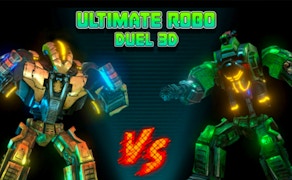 Ultimate Robo Duel 3D
Step into the future of combat with Ultimate Robo Duel 3D, a thrilling addition to the realm of robot games. This game not only electrifies the genre but takes it to a whole new level thanks to its incredible graphics and realistic gameplay. With adrenaline-pumping action and fierce battles, it rightly stands as one of the most exciting battle games of the year.
If you have a penchant for boxing games, Ultimate Robo Duel 3D offers well-crafted fight mechanisms where every punch, every block, and every move counts. The careful attention to the physics of boxing is astounding, making each bout feel thrillingly real. The impact as your mechanical fist connects with an opponent will reverberate through your controller, intensifying the experience.
The arena comes alive with dynamic lighting, authentic sounds, and palpable tension that adds depth to your gaming experience. You can practically taste the metallic tang in the air and feel the heat from the floodlights as you pit your skills against advanced robots in single-player mode or take on a buddy in 2 player games.
This game boasts a detailed campaign against computer-controlled opponents that will test your resolve and skill. Alternatively, invite a friend over for ruthless robo-duel in 2 PLAYER mode; it's comfortably one of the best ways to settle old scores or just enjoy some quality gaming time together.
In conclusion, Ultimate Robo Duel 3D is an impeccable fusion of robot games and boxing games that promises high-octane action, unmatched tactical gameplay, and immersive experiences. It's more than just a battle game; it's an arena where you don't just fight - you dominate!
No matter what type of gamer you are - casual button masher or dedicated combo fanatic - this game has enough depth and charm to keep you hooked for hours!
What are the best online games?