Gang Fall Party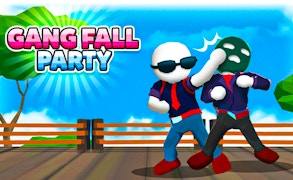 Gang Fall Party
Let's kick this off with a full-on, bare-knuckle fighting game that will keep you on your toes - Gang Fall Party. This massively entertaining battle game plunges you headfirst into the electrifying arena of stickman games, grabbing hold of your competitive spirit and refusing to let go. Whether you're a solo gamer or thrive on the thrill of 2 player games, Gang Fall Party has got you covered.
This exhilarating stickman-based slugfest demands not only quick reflexes but also quick thinking. The moment your stickman avatar tumbles over the edge of the arena, it's curtains on your battle. Thus, staying away from the edges is as crucial as landing the right punches. Because in Gang Fall Party, every punch counts.
The fists get heavier and the fire gets hotter as you progress in this relentless gaming experience. With each opponent you take down, your punches pack greater power - enough to set your fists aflame and make all subsequent fights a breeze. And if that isn't enough excitement for one game, know that you can challenge not just one but up to 16 players!
In terms of gameplay, visuals, and intensity, Gang Fall Party stands tall amongst other stickman games. It makes for an unforgettable gaming experience whether you choose to fight alone or with a friend. Trust me when I say this: there's never a dull moment when flaming fists are flying around in a fast-paced fight for first place.
In conclusion, Gang Fall Party is an addictive addition to 2 player games and battle games alike. It serves up endless fun and fierce competition in equal measures – perfect for those who love to play hard and win harder.
What are the best online games?