Stick Golf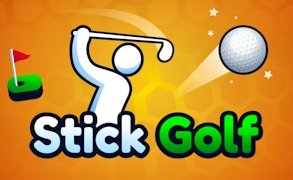 Stick Golf
Step onto the verdant fields of the digital world and embrace your inner sportsman as you dive into the engaging intensity of Stick Golf, undoubtedly one of the most exciting golf games garnering rave reviews from the gaming community.
This magnificent addition to the pantheon of ball games and stickman games alike, Stick Golf transforms your gaming experience as it blends simplicity with a challenge. Its premise is uncomplicated; aim, adjust the club power, and launch into a satisfying swing, sending your golf ball soaring across beautiful terrains towards that victory hole. But beware! Each course brings with it bunkers and water hazards that would test even seasoned players.
Apart from strenuous golfing challenges, Stick Golf also adds an immersive interactive tutorial designed to familiarize rookies with its mechanics. The game's creators took an extra mile to design a relaxed theme and background. You're not just playing a game; you are soaking in a calming environment that makes playing golf more relaxing than ever before.
In this captivating world of stickman golfing, your successful shots are awarded more than just applause; you earn coins for every triumphant swing which can be used to purchase fun skins at the in-game shop. Want to flaunt your style? Don on a top hat or perhaps display some swashbuckling swagger with a pirate hat or liven things up with adorable bunny ears.
In essence, Stick Golf isn't just another run-of-the-mill ball game; it's an addictive gaming journey that leaves you yearning for one more round. And in the broad spectrum of golf games out there, Stick Golf shines like an emerald in a golfer's glory. So gear up, take aim, swing hard and score big in this incredible stickman sports adventure!
What are the best online games?